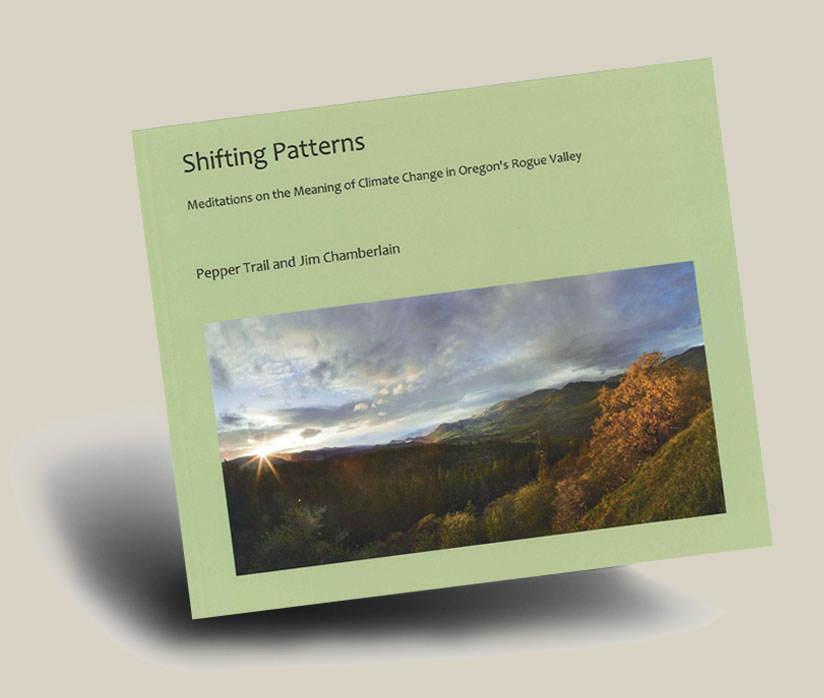 Shifting Patterns
A sobering scientific report on the likely impacts of climate change in the Rogue Valley was published in December 2008.  In response to the report's alarming vision of our future, Susan Cross of Medford's Jefferson Nature Center created the "Shifting Patterns: Preparing for Unsettled Days" project.  The project, supported by the Oregon Arts Commission, gathered together 16 southern Oregon artists, including Pepper Trail, Ph.D. and myself, to respond to climate change.
For Pepper's and my response, we decided that we needed to package the information into a variety of interactive formats. The result is the Shifting Patterns book and companion website. The website contains additional writings and a wealth of links to sources of scientific information and steps for practical action. Please visit our Resources web page to get started.
The words and images in this book arise from the natural world of the Rogue Valley today, and from our vision of possible futures.  From the outset of the project, we knew that we wanted to include the full range of environments around our hometown of Ashland, from the confluence of Bear and Ashland Creeks on the valley floor, to the peak of Mount Ashland.  We visited these sites, and all the habitats in between, many times during the spring and summer of 2009.
We hope these words and images may lead you to think about your own home places in new ways.  Together, we await the future, in common fear and shared hope.
Shifting Patterns website
Order the Shifting Patterns book
Other publications where my photography has been featured:
.
USFWS- Publication "Identification Guidelines for Shahtoosh and Pashmina"
2004 Game Warden Magazine
2008 Cabinet Magazine
2008 Ashland Gallery Guide
2009 Oregon Arts Commission
2009 Ashland Parks Magazine
2009 Via Magazine
2009 Time On-Line Magazine
2010 National Geographic Book
2010 Ashland Parks Bear Creek Festival
2012 Ashland Parks Magazine
2013 Ashland Book
2013 Mix Magazine
2013 University of DePauw Magazine – cover